Are you excited to explore the wonders of Burbank, the media capital of the world? Whether you're flying in or out of Burbank Airport (BUR), we've got you covered with the ultimate guide to a seamless journey. In this comprehensive blog post, we'll show you the best way to travel between LAX and Burbank Airport with Opoli's trusted shuttle and car services. So, buckle up and get ready for a stress-free ride!

Burbank Airport: Your Gateway to Hollywood Magic
Nestled just minutes away from the glitz and glamour of Hollywood, Burbank Airport is your ideal gateway to a world of entertainment. Smaller and more convenient than LAX, Burbank Airport offers a hassle-free travel experience, allowing you to focus on the fun and excitement that awaits you.

The Best Way to Travel Between LAX and Burbank Airport: Opoli's Unmatched Convenience
When it comes to travelling between LAX and Burbank Airport, Opoli stands as the unrivalled choice. With our trusted shuttle and car services, you can enjoy a smooth and comfortable journey like never before. Whether you're looking for "Burbank Airport shuttle," "car service LAX to Burbank," or "Burbank Airport to LAX shuttle," Opoli has you covered!

Discover the Marvels Around Burbank
While in Burbank, make the most of your visit by exploring some of the fantastic tourist attractions nearby. Immerse yourself in movie magic with a visit to the Warner Bros. Studio Tour Hollywood, where you can see behind the scenes of your favorite TV shows and movies. For adrenaline junkies, Universal Studios Hollywood offers thrilling rides and live entertainment. And don't miss the iconic Hollywood Walk of Fame, where you can spot your favorite celebrities' stars!

Shuttle Services for Effortless Transfers
Opoli's Burbank Airport shuttle services offer a convenient and cost-effective way to travel between the airports. Whether you're arriving at LAX and need to get to Burbank or vice versa, our shuttles ensure you reach your destination on time, without any stress or delays.

Private Car Service for a VIP Experience
For those seeking a more personalized and luxurious ride, Opoli's private car service is the perfect choice. Enjoy the comfort and privacy of your own vehicle, driven by our skilled and courteous drivers who prioritize your safety and satisfaction. Experience car service at Burbank Airport like never before with Opoli!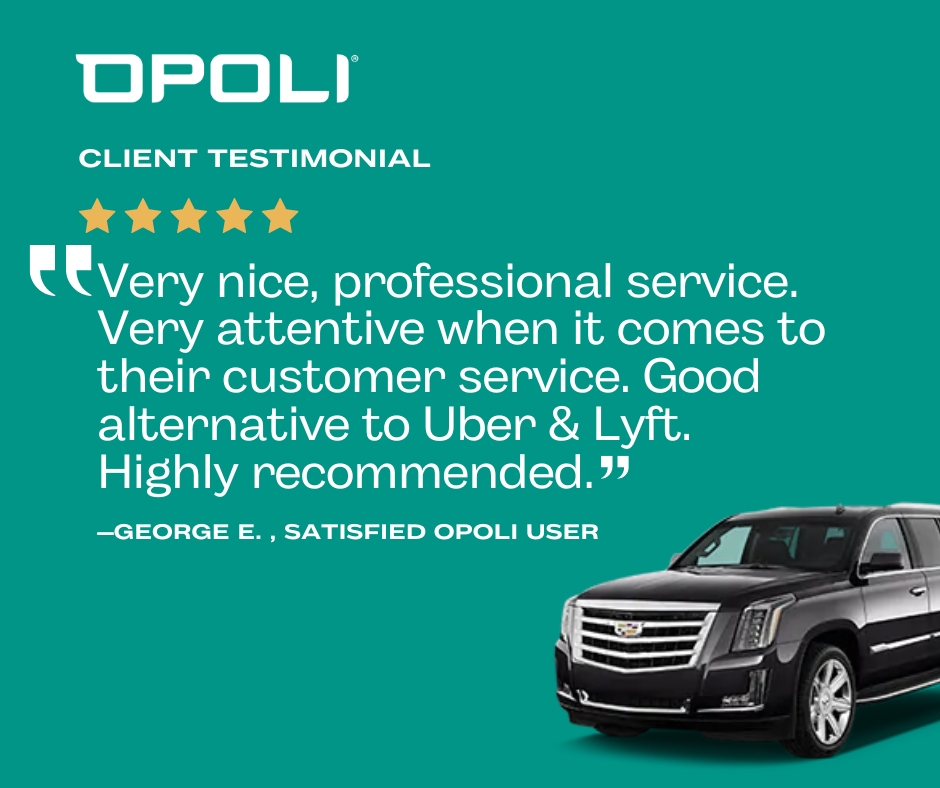 The Opoli Difference: On-Time, Professional, and Clean
Opoli's commitment to excellence sets us apart from the rest. We understand the importance of punctuality, professionalism, and cleanliness. When you choose Opoli, you can rest assured that you'll experience a reliable, courteous, and hygienic service every step of the way.
Embark on an effortless journey between LAX and Burbank Airport with Opoli's trusted shuttle and car services. Say goodbye to travel headaches and hello to a stress-free, on-time, and professional experience. Whether you opt for our shuttle services or private car service, we've got you covered for a seamless trip to the media capital of the world – Burbank.
Book your Opoli ride today and discover the convenience and comfort of effortless travel.